Please take time in your own way to remember the fallen of 9/11/01
Below are some things to join in on in Memory and Requests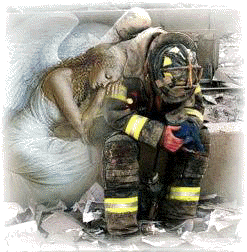 ---

9/11 LIGHTS ON! Wear red, white, and blue!

September 11, 2006 - A Way To Honor Our Nation Together

Please join us on 9/11.....................on Monday, September 11, 2006 everyone in the USA who will be driving a motor vehicle is asked to drive with their headlights on during daylight hours.

Though no explanation is needed as to why we are commemorating September 11.........................we hope more importantly to pay respect to the victims of that day, show our nation's solidarity and show support for our men and women of the Armed Forces.

On that day, please wear red, white and blue to show your support for those who lost their lives on 9/11/01 and to honor the heroes who worked to save them and the families left behind.

Please send this link to your friends and family - by September 11, 2006 hopefully enough people will have read this and will join together in unity

Remember......................9/11 LIGHTS ON! Wear red, white, and blue!

---

---

---

---

BE PROUD, SHOW UNITYFLY YOUR AMERICAN FLAG!!!
Please email your comments and activities to Webmaster